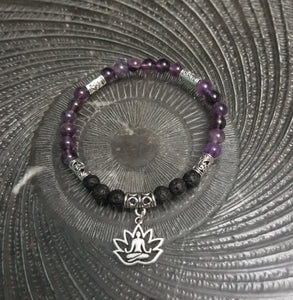 Amethyst/Lava beaded bracelet with yoga pose inside a lotus charm
7.5"
Amethyst was thought to control evil thoughts, help sobriety and help overall control of one's thoughts and mindfulness. Ancient Egyptians gave another meaning to the crystals and were wearing jewelry with amethyst to protect against guilty and fearful feelings, along with protection from witchcraft.
Lava Stone is a grounding stone that strengthens one's connection to Mother Earth. It gives us strength and courage, allowing us stability through times of change. It provides guidance and understanding in situations where we may need to "bounce back". A calming stone, it is very useful in dissipating anger.